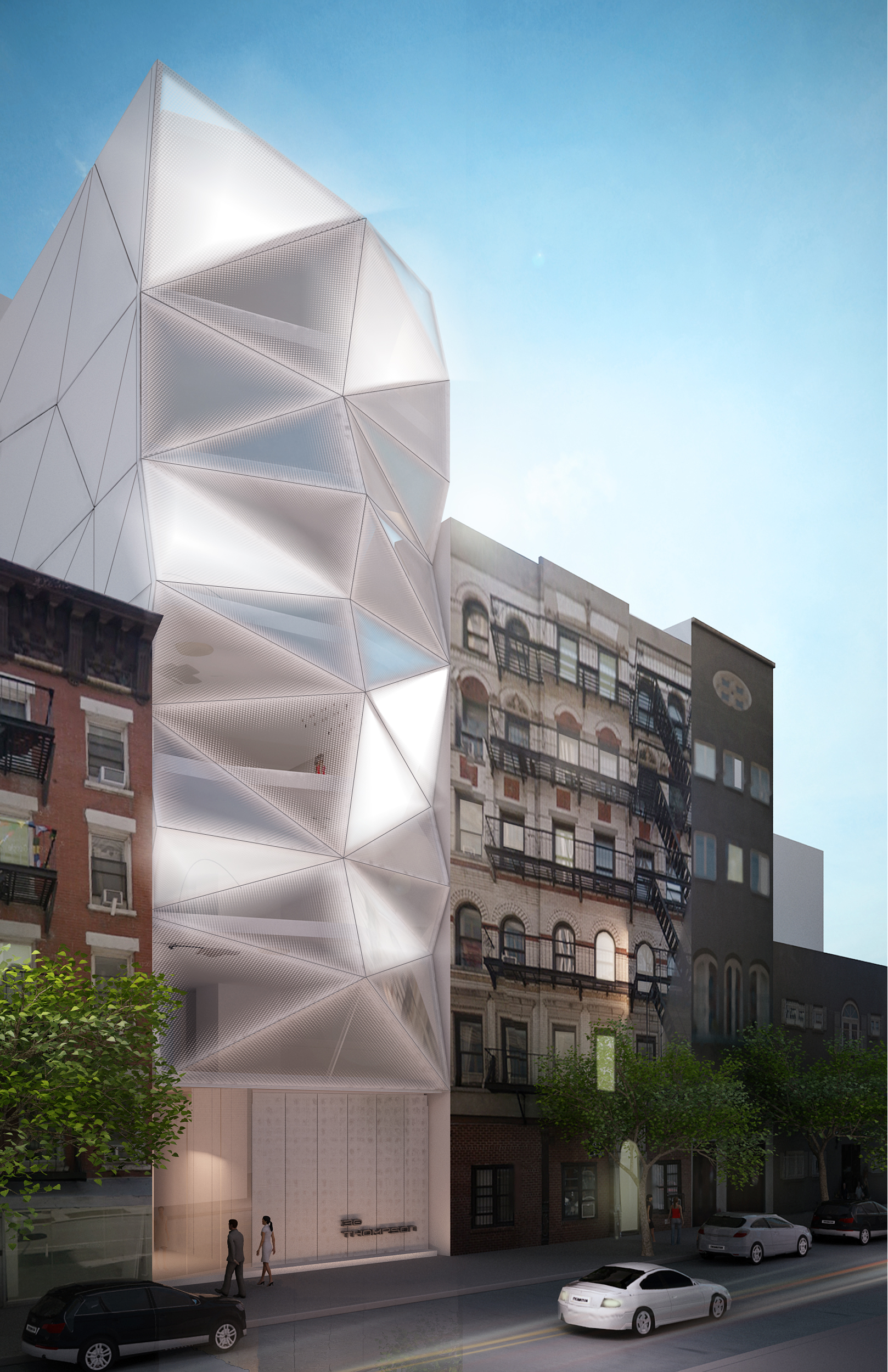 30 Thompson Street
Soho
New York, NY
USA
Residential Building
15,700 gross SF
13,500 net SF
2,725 lot SF
7 units
Located in the SoHo neighborhood of Manhattan, 30 Thompson Street is designed to be a unique example of a design democratic product containing the highest of design solutions at minimum costs. Its ambitious goal, is to utilize our unique design resources to redefine expectations of quality in small to mid-rise apartments in Lower Manhattan.
Features that are rarely found in small new buildings because of economy of scales and costs of project management are flaunted boastfully here. The economical factors against quality at this scale are simply offset and inverted by leveraging a wealth of deep industrial design development, technology and manufacturing resources. Examples are found in all and every building detail, from the building's skin and structure to the selection and placement of its building systems to the choice of fixtures and finishes.
To begin with, the building was entirely designed with Building Information Modeling Technology which was customized, extended and tweaked by proprietary software to maximize design, construction, energy and maintenance efficiency. One direct result of this process, is that all building systems are in perfect balance and harmony with the architecture of the project. Therefore, all engineering systems are designed to be integral to the aesthetics of the project. This means that all mechanical systems are coordinated to be concealed but always accessible. No access panels, diffusers or grills or valves are visible anywhere, creating a unique, clean cut feel and sense of order to space.
Programatically speaking, the building is a seven unit floor-through apartment building, constituted by six 2 Bedroom units and a unique double terraced Penthouse with rooftop amenities. The building has a virtual doorman controlled automated parking system that is accessible from an elegant, twenty foot high lobby space.
The apartment interiors themselves have eleven feet tall ceilings and an oversized rhombus shaped window that is fabricated as built in furniture and doubles as a deep lounge chair and storage unit. From these windows / storage / lounge units, spawns two horizontal lot line stripes of clerestory windows that provide extra natural light along the depth of the building.
Every unit has direct private access from an oversized elevator with private key control and smart control technology. Meaning that you can call the elevator, or your car, from your phone. Smartphone technology also controls hvac, radiant flooring, lighting, refrigeration, cooking, electrical outlets, appliances, automated parking and elevator calls.
The high quality definition of interior finishes, including kitchens, closets, bathrooms, lighting, appliances, fixtures and hardware are all a product of our unique industrial design processes and resources.
Kitchens are Italian made by Aran Cucine. They are replicas of the built in prototype that Karim Rashid designed for this year's Milan Salone Del Mobile. Aran Cucine is renown as Italy's best quality producer, and outfits high end development projects such a 432 Park Avenue in Manhattan. These uniquely designed kitchens feature glass backsplashes with built in and concealed Smart TV video. Back painted glass finished cabinetry with soft close mechanics and built in lighting. Miele appliances allow for Smart Controlled cooking, dish washing, steaming and refrigeration. In addition, the kitchen boasts a sexy, sculptural solid surface island with an under counter sink that is hidden by a integral cutting board with pop up LED lighting. The island doubles as a flat surface dining table when the sink is not in use.
Walk in closets also have doors and cabinetry that are soft touch operable, with integral toggle activated cove lighting. Interiors are double hung and shelved with unique soft touch haberdashery drawer systems.
Bathrooms have warm radiant flooring, smart technology mirrors and medicine cabinets. Seven piece hydro massage showers have extra large rain heads for more than one person at a time. Bath tubs are custom CNC milled out of solid blocks of honed white solid surface material.
Aside from the tub, all other sanitary fixtures are custom designed by Karim Rashid and hand-made out of porcelain in Italy.
The flooring throughout the project is an elegant, extra large format, fiber reinforced porcelain tile. The slabs are oversized at 3m x 1.5m (10' x 5') yet the state of the art Italian technology allows for flexibility and ease of installation on a thinnest which translates to lower construction costs.
Fixtures and finishes in the project are monochromic, yet soft and contrasty in sheen and come in pure matt and high gloss white, generating a progressive yet classic feel.
+